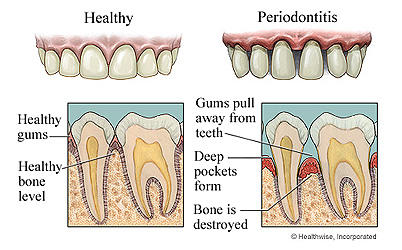 Periodontal disease is the leading cause of tooth loss. What used to be known as trench mouth or pyorrhea is now more commonly known as Gingivitis, Periodontitis or infection of the gums. Gingivitis is the earliest stage of gum disease, and it is often reversible. It begins with overgrowth of bacteria due to plaque buildup, and it may progress to periodontitis if not addressed. Good oral hygiene and regular checkups can often reverse gingivitis. Once the disease advances to the inner layers of the gum, the tissues begin to pull away from the teeth and form small pockets that collect more bacteria and food particles. The results can cause the gums to become infected. Toxins from the bacteria eventually break down the bone and connective tissue that holds teeth in place, which leads to loosening of the teeth, pain and eventual tooth loss.
Causes of Periodontal Disease
While dental plaque is the primary cause of most cases, the following factors may also contribute to periodontal disease:
Hormonal changes during puberty, pregnancy, menstruation, and menopause
Illnesses such as cancer, diabetes, HIV, and other immune problems
Certain medications such as Dilantin, Procardia, and Adalat
Smoking
Poor oral hygiene
A family history of dental disease
Common Symptoms of Gingivitis and Periodontitis
Symptoms of periodontal disease can be subtle and may go unnoticed, but the following are clear warning signs.
Bleeding gums, especially after brushing
Receding gums
Red, inflamed, or tender gums
Persistent bad breath or a bad taste in your mouth
The presence of pockets between gums and teeth
Loose or shifting teeth
Changes in bite
Changes in the way partial dentures fit
How Gum Disease is Diagnosed and Treated. Your dentist or hygienists will check for signs of diseased gums during a comprehensive exam. Treatment depends on the stage and severity of the disease. It may include special cleaning instructions or products, medicated mouth rinses, or surgery to restore supportive gum tissues.
Your Gums May Affect Your General Health. Researchers have discovered links between gum disease and cardiovascular disease, diabetes, pneumonia, and low birth weight. Also by reducing the inflammation in your gums, it may decrease your risk of stroke, heart attack, and Alzheimer's dementia. It is estimated somewhere between 20-80 percent of US adults have some form of periodontal disease. Less plaque on teeth means less plaque in arteries.
Prevention is Key. See your dentist and dental hygienist regularly. Early stages of gum disease are reversible. The following recommendations can help decrease your risk of gum deterioration and the rate of its progression.
Stop smoking.
Reduce stress.
Eat a healthy, well-balanced diet.
Avoid clenching and grinding your teeth.
Practice strict oral hygiene; brush twice daily and floss every day.
Located in Independence, MO, Davis Family Dentistry offers affordable family dentistry and gentle, compassionate dental care to our patients. We provide most dental services, from basic preventative care and general dentistry to specialized procedures. We accept most dental insurance plans and offer affordable financial solutions for any budget. Patient satisfaction is our top priority and we strive to provide the exceptional, affordable dental care and a personal touch that leads to a lasting relationship.

To learn more about our practice, call Davis Family Dentistry today at (816)350-7710 to make an appointment.